When analysing the air for its micro-organism content, one must either soak air through a filter or through water, in which the microorganisms are held back. The air sample does not consist of a bag of air, but of a bottle of water or a dry filter. The bottle or filter is then transported to the laboratory and analysed there. The methods of analysis are often the same as used in eDNA studies see FX eDNA .
In the air, the density of microorganisms is very low, often between hundreds and hundreds of thousands per cubic metre. In order to be able to carry out a good analysis, there must be well over one million bacteria in each collected air sample. It is therefore a question of transferring the bacteria from up to 500 cubic metres of air to a single sample – a technical challenge. In addition, many tests must be gathered and analysed, otherwise the results will not be meaningful, because the content of the air varies greatly – a possible economic challenge.
A group of Nordic researchers has solved the problem under the auspices of the Au. After evaluating the majority of the available methods and apparatus, they found that the use of a specific vacuum cleaner for the collections was the most effective method and at the same time cheapest. Since then, the vacuum cleaner has been used on the mountain top in Svalbard, Greenland and France, on open fields and around stables in Denmark, and high up in the air from a small plane over Zealand and the Kattegat.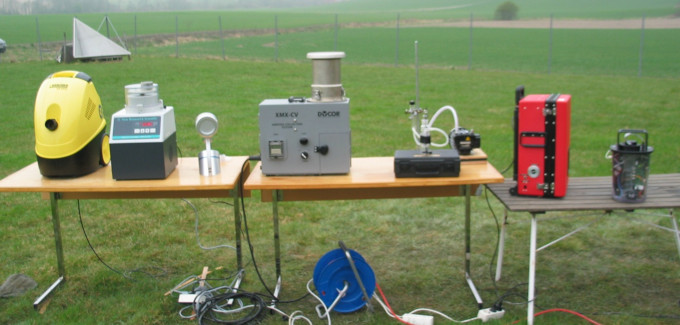 The peculiarity of this vacuum cleaner is that it has a water tank instead of a bag. The water tank is filled with clean water, a saline solution or another liquid, suitable for the purpose. For example, substances that conserves DNA and RNA may be added. The air is sucked through the water, which then restrains the microorganisms. The liquid is then analysed to the laboratory for the number, composition and possible activity of microorganisms.
In the future, we will use the same method in smaller appliances, so you can use them in drones for example. Therefore, liquid-based collectors are developed in smaller size. In addition, we will try to replace the laboratory analysis with a sensor that continuously determines the content of the liquid microorganisms.