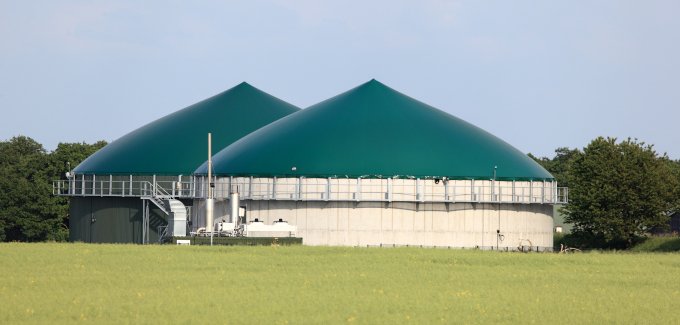 Modern biogas plant
Biomass is increasingly used as a source of energy production in Europe and in other developed countries. Presently this is composed of biomass that belongs to the agricultural food and feed group, and from forestry, as well as waste biomasses from agriculture, forestry, and industrial and household waste. The first group is increasingly viewed as a transitional measure towards the use of later generations of biomass conversion technology that build on waste biomasses.
Research challenges in this transition include:
Further research in land use consequences of present bioenergy strategies, including land competition and scarcity and iLUC of national strategies at various scales
Issues related to the GHG impact of using biomass from slow growing biomass for bioenergy
Agricultural strategies, farmer practices and the potential for bioenergy crops
Governance frameworks that support transition pathways: use of biomasses for advanced conversion (e.g. lignin biomasses, blue biomass and biorefinery processes with energy input), incorporation of bioenergy crops etc.
Environmental impacts of bioenergy production and use in a systems perspective i.e. mass scale use of wood pellets in the heat and power sector.
Developing methods for assessing the climate and environment impacts and interlinkages of different production systems in the bio-economy.
The main challenges in bioenergy and biofuel research are related to engineering and technology development, environmental impact, and sustainability. In the SGA for Sustainable Energy, Climate and Society we mainly focus on the two latter, but closely related to the biotechnological development.