Profile: Professor Carsten Ambelas Skjøth "comes home" to Risø
Carsten Ambelas Skjøth's scientific curiosity has led him to travel in search of answers. He began working with air quality monitoring and modelling as a student assistant at the National Environmental Research Institute (which later became the Department of Environmental Science as part of Aarhus University), while studying for his Bachelor degree in physics. This set him on an academic path that would ultimately bring him back to the laboratories of Risø, almost 10 years after leaving Denmark.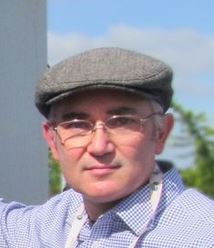 For Carsten, it seems it has always been about gaining new perspectives through learning. After pursuing a Masters in meteorological modelling, he took a leap in the dark and pursued the option of studying allergenic pollen during his PhD. While his own pollen allergy may have motivated this in part, the decision for him was more one of broadening his research profile, and applying his existing knowledge into a new area. Stepping into a field where very little was known, he took on the risk of failure with his sights set on what could be gained. "It was like being thrown out in the big sea and seeing "can I swim?"."
The risk was rewarded, and he went on to Lund as a PostDoc to learn about the plants themselves, and then to Worcester, where he secured his first professorship, and delved into aerobiology – the study of the passive transport of microorganisms and biological materials in the air. While he says he'll miss the colleagues, labs, the neighbors and the hills he's leaving behind, he also sees the move as "approaching something good". Having prioritized settling his family first, his sights are now set on the work at hand. With the help of the RECRUIT grant that funded his journey home, both physically and scientifically, he will be setting up a new research group.
Scientifically, he says that it's great to be able to benefit from the Department of Environmental Science's strong expertise in atmospheric science to take his research "to the next level", while he also looks forward to bringing in outside partners and collaborators to expand the possibilities of the project. At the moment, he sees detection as the biggest barrier to progress, with decades-old methods holding back progress. His research will therefore be making use of the Department's real-time instruments and molecular genetics lab facilities to develop new ways of detecting, measuring, and identifying what's in the air.
But this is just one side of the project. He stresses that while getting the best data out of instruments is very important, we still need the science to explain what we find. At the core of the project is the goal of understanding how pollen and fungal spores behave in the atmosphere, where they end up, and what impact this has. Anything that grows and multiplies and is small enough to be released into the atmosphere represents a possible downstream impact. For example, small organisms are able to affect the hydrological cycle, transportation of pests could influence global food security, and as we've all experienced quite starkly during the pandemic, airborne viruses can impact public health.
As a result, the project represents a wide-open path of investigation that could benefit not only pollen allergy and asthma sufferers, but the development of the science and technology of air microbiology as a whole. Carsten expects the work to open up a long line of possibilities and applications, and is excited to see what it brings.
As for what's next, he says "the exciting thing about moving between scientific environments, is that one always uncovers new problems", but for now, he is happy to be home, even if the gentler climate in Worcester has made him a bit "soft" for Danish winter, he laughs.